Photographer, outdoor enthusiast and solo parent Shoshannah grew up in a remote sheep, beef, and mussel farm in the outer Pelorus Sounds and today creates a life around taking her 4-year-old son on adventures all around New Zealand (@shoshannah.nz on Instagram). Exploring all the natural beauty the country has to offer, the power duo travelled the length of the long white cloud in a van before recently settling in Canterbury in anticipation of the arrival of another little adventurer to join the family.
With the advent of winter on our doorstep, we spoke to Shoshannah about her top tips for staying outdoors this winter and not letting the cooler temperatures stop you from adventuring with your tribe.
So… How best to approach winter adventures?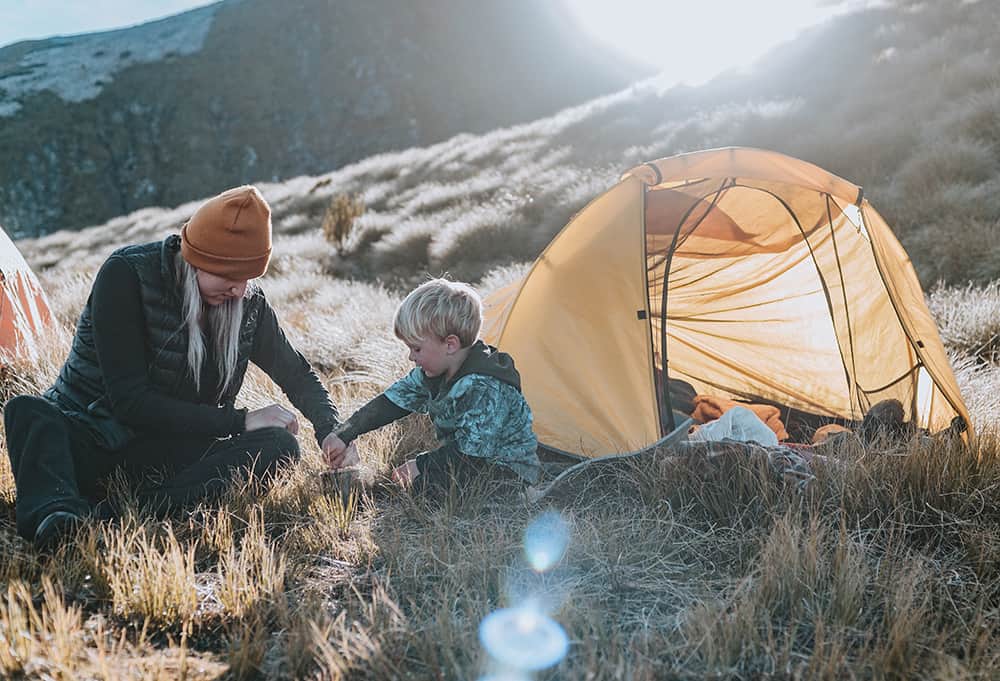 1. What's been your experience with hiking and tramping in the winter months?
Personally, I have found we prefer winter hiking because my child doesn't like the heat. The hotter it gets the more he wilts like a flower. It's easier to rug up with layers for the cold, but there's only so many layers you can take off when it's hot! You do have some things to worry about like shorter days so less daylight for longer tramps. The weather is colder and often more wet so we are careful to take enough extra layers, things like hand warmers are great for littles. My little one also loves the snow, so winter hikes are exciting. The most important thing is to have the right gear – that is warm layers and waterproof layers, especially good waterproof insulated footwear.
2. Do you think there are any misconceptions around what's possible in the winter months?
I think being colder puts people off sometimes. The gear can be more costly than summer tramping, but to be honest here in NZ you still need all the layers for summer anyway. Especially if you're hiking in higher altitudes, the weather can change in a flash and you need to be prepared regardless of the season. As long as you have waterproof and warm gear, be prepared, choose shorter trips for the shorter days you'll be sweet. If in doubt don't push it.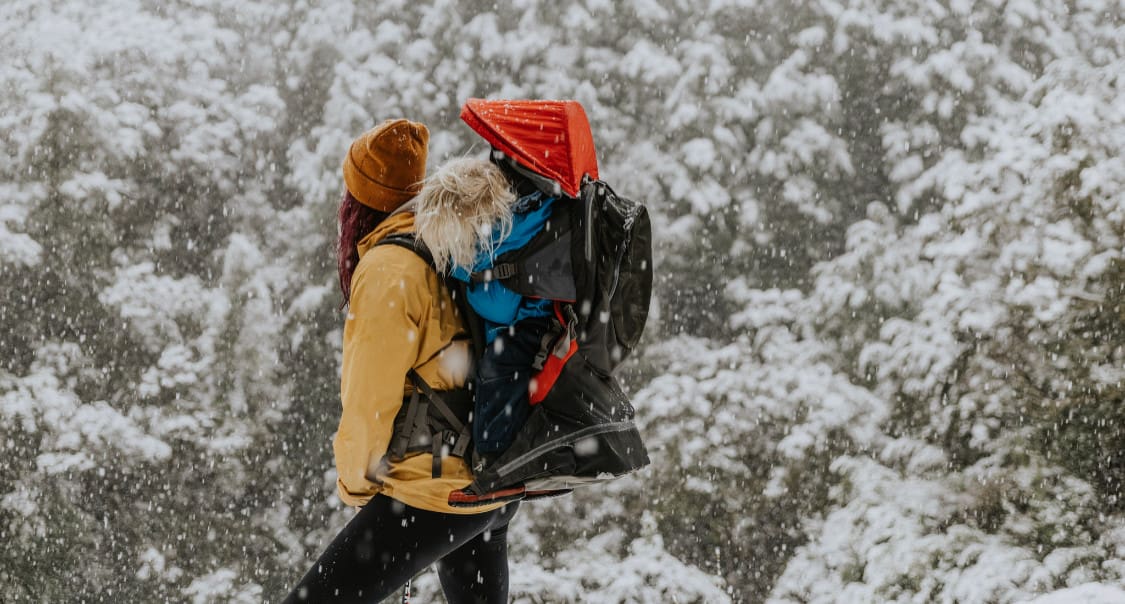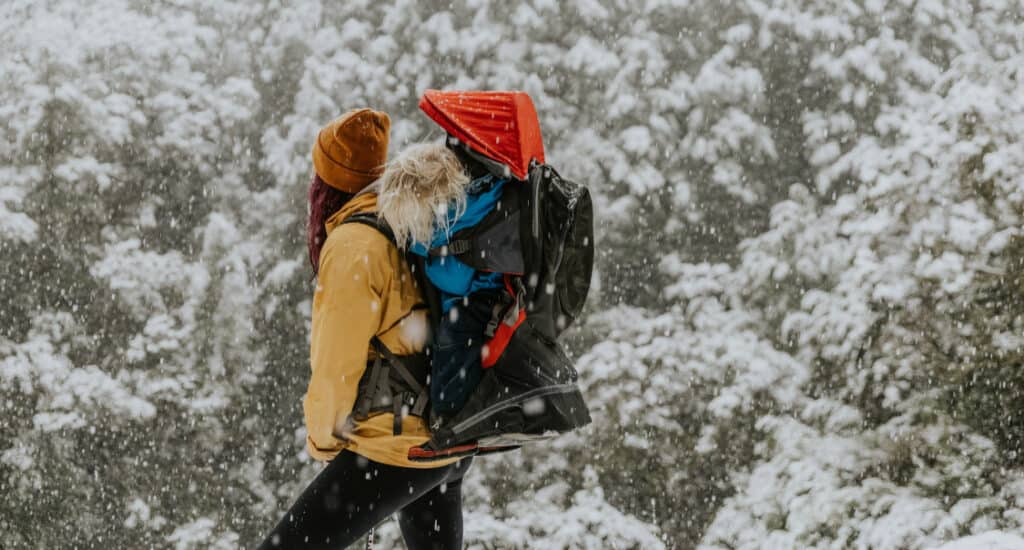 3. Are there different considerations for picking a winter hike or tramp?
Some tracks are dangerous in winter due to ice etc., plus I would pick much shorter walks, and lower altitude.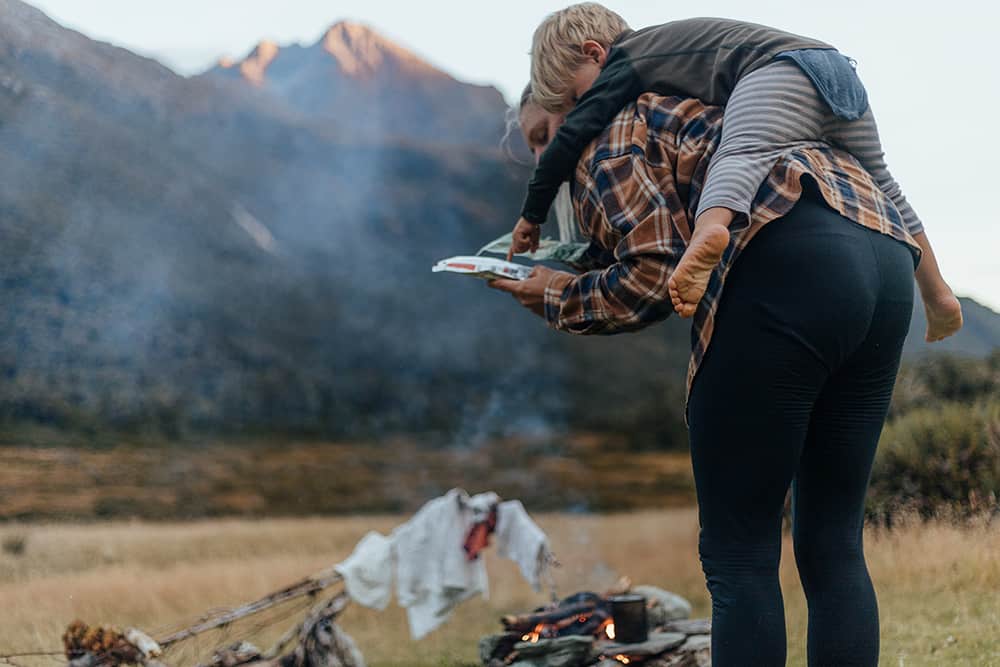 4. What are your top tips for making winter tramping as easy and fun as possible?
Warmth is key, hot chocolates are a must.
Snacks, as always, are important, especially because when it's cold kids need extra energy, so keep them fuelled up with good food.
Maybe take a thermos with hot drinks or soup to warm up on the trail.
Gear – waterproof, insulation, layers. Merino or polypro is key, don't ever go tramping wearing cotton! Cotton kills – quite literally. It draws the heat away from your body and if it gets wet it does not retain any heat. Pre kids I learnt the hard way wearing cotton on an alpine tramp and came very close to getting hypothermia. When merino gets wet it still retains warmth, it moves moisture away from your body. It is also temperature regulating. Merino should be against your skin as your base layer always. And then over top I often do polypro and then fleece. Down jacket and raincoat overtop.
Hat, gloves and good woollen socks are essential. I have recently got good thick wool socks for my 4-year-old from Macpac and they've been great.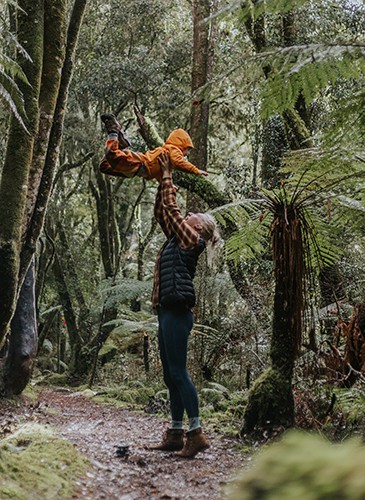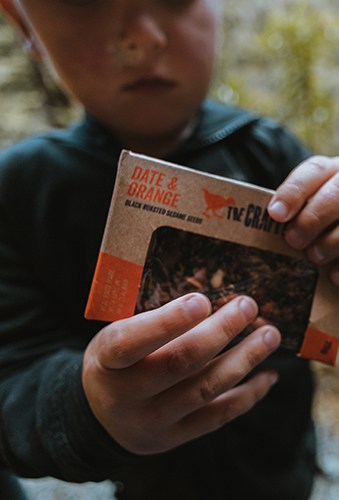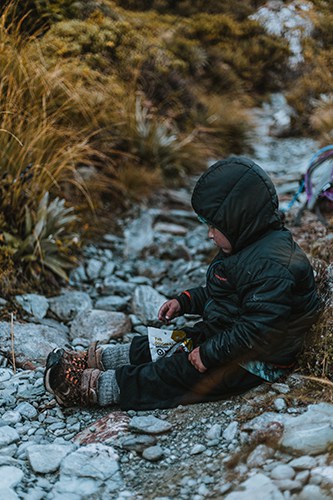 4. Is there anything you'd like to say to people who are considering winter tramping but might be afraid to try?
Stay closer to home, choose a short and popular track, a hut with a fireplace. Or maybe try pitching a tent in your backyard and give camping a go to see how you go in the elements. My biggest tip is to just start somewhere. If you've never been tramping before, start in summer first and remember there's no rush, it's not a competition. We wanna stay safe and have fun!
What do you Weckon?
We're so lucky in New Zealand to have oodles of trails, tracks and huts on our doorstep wherever we are. And there are options for all fitness and comfort levels. By following a few key rules (layer up, stay warm, take hot drinks + snacks, start small), just about anyone + their mini humans will be able to keep the adventure spirit alive in those colder months.
If you'd like to find out more about Shoshannah & Mr. 4's outdoor adventures, head on over to her Instagram @shoshannah.nz or visit her website for photography-related enquiries.
Thanks for reading! And if this has inspired you to head out this winter, let us know your favourite winter adventures in the comments below!